The war in Ukraine is causing a worldwide shortage of wheat. Here in Germany, too, the prices of bread or pasta have already risen. This is mainly because Russia and Ukraine are two of the biggest exporters of wheat in the world. Russia is the number one exporter with 37.3 million tonnes annually, while Ukraine is in fifth place worldwide with 18.1 million tonnes. Together, the two countries produce a good 25 per cent of the world's wheat.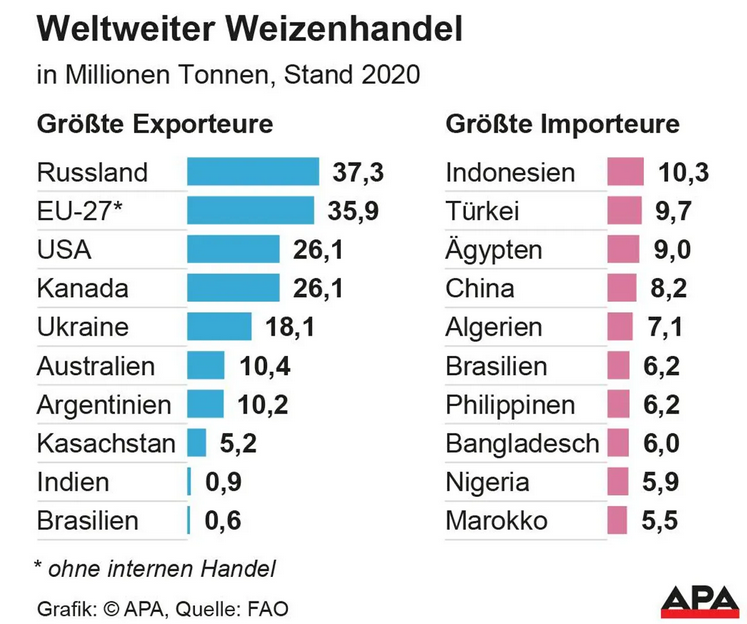 The shortage, caused by the war, faltering production, sanctions and interrupted supply chains, is, as I said, also causing prices to rise here in the FRG and is mainly at the expense of the workers. Above all, however, it hits the oppressed nations. The chart above shows that on the side of the ten largest importers of wheat, with the exception of China, there are only oppressed nations. Even a country like Brazil, which is itself one of the top 10 exporters, still has to import wheat. This shows the great dependence that the oppressed nations are in vis-à-vis the imperialist countries. This now ensures that even more people will suffer from hunger. Because war is breaking out in Ukraine, people in Africa, in Latin America and in Asia have to starve. That is how this system works.
The United Nations World Food Programme was already talking about the "Catastrophic Hunger Year 2022" before the war broke out last December. With the war, the situation is getting worse. Martin Rentsch, spokesperson for the World Food Programme, fears an increased potential for uprisings: "Because, of course, hunger always has a very destabilising effect and this also has political consequences. We know from the past, from the countries of North Africa, how this can lead to conflicts. What the world cannot afford at all at the moment is further conflicts."
But while the rulers talk about how such uprisings, such struggles that will inevitably develop, are bad and must be prevented, the masses disagree. The peoples no longer want this life of misery, poverty and hunger, no longer want to be oppressed by the imperialists who will fuel war and hunger as long as they have power in their hands and will fight them till the end.