On 31 January 2022, a demonstration was mobilised in the Lebanese city of Sidon against the visit of the French ambassador Anne Grillo. This was linked to the decision of the Paris Administrative Court, which was scheduled for 10 February to rule on the extradition request of Georges Ibrahim Abdallah, which is a condition for his return to Lebanon. The protest demanded the release of Georges Ibrahim Abdallah, a Lebanese man imprisoned in France for his involvement in the struggle for the liberation of Palestine.
The demonstrators gathered with placards and pictures of Abdallah at the entrance of the Municipal Theatre, the place where the ambassador was to attend a meeting with politicians of the old Lebanese state. Ambassador Anne Grillo, representing French imperialism, had to be protected by policemen from the dozens of Lebanese. When she wanted to leave the meeting, she had to wait inside the building for an hour while the police beat back the protest.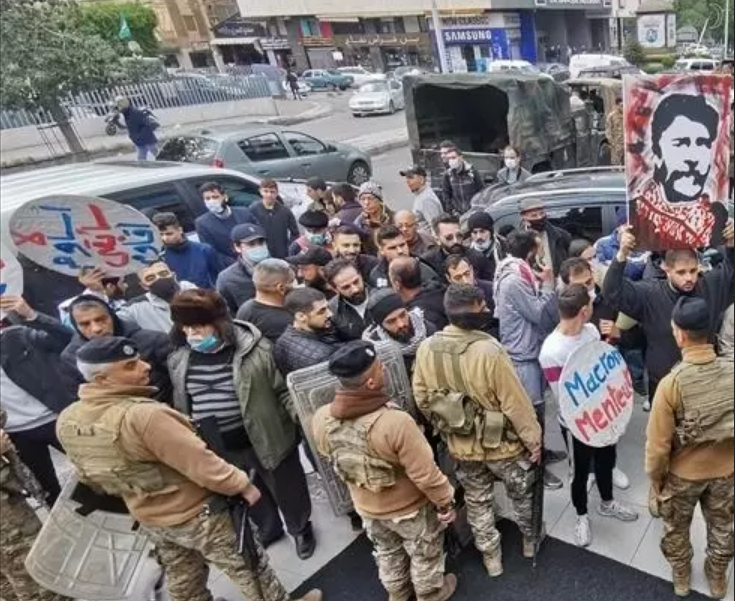 One of the activists stated "We came to condemn the visit of the French ambassador to the city of Sidon, because the French ambassador is not welcome in the land of the heroic southern gate [alluding to the southern city of Sidon, which resists Israel's Zionist expansion] and the capital of resistance." He also condemned French imperialism and said: "your country has been holding our revolutionary hero, George Ibrahim Abdullah, in its prisons for 38 years."
Georges Ibrahim Abdallah, a great fighter for the national liberation of Palestine, is a Lebanese citizen and has been tried, convicted and imprisoned in France. He is the longest imprisoned political prisoner in Europe, serving over 37 years in one of the stone coffins of French imperialism for the alleged murder of a Yankee colonel and an Israeli diplomat. Abdallah has already served his actual sentence since 1999.
French administrative court denies request for expulsion
On Thursday 10 February, the Paris Administrative Court handed down its verdict, denying Abdallah's request for expulsion from French territory. This application had been filed more than a year ago by Abdallah's lawyer, Jean-Louis Chalanset, as an expulsion order conditional on his release. Abdallah will therefore remain in prison.
This new court decision confirms once again the political nature of the Georges Ibrahim Abdallah case. Georges Ibrahim Abdallah remains what he is, a Lebanese communist and a great supporter and fighter for the liberation of Palestine. That he is still not free reinforces the need to continue the struggle for his release and for the cause for which he fought.