While the participants of the Tour de France riding their bikes through the country as every year, the numbers of infections rise and since weeks it is spoken about a "second wave".New measures like bars getting stronger terms and the people in Paris have to wear masks also outside, shall serve allegedly to prevent another lockdown. But now there is another factor added because on Tuesday, the 1st of September, the schools open again and 12.4 million of pupils are allowed to go back to school after up to five months. But that is often related to a health risk for the kids because keeping distance in the classrooms that are filled with more than 20 kids often is not possible. Instead there is the duty to wear masks from the six grade up on the whole day. This has nothing to do with the planned "normality" and protection of the health.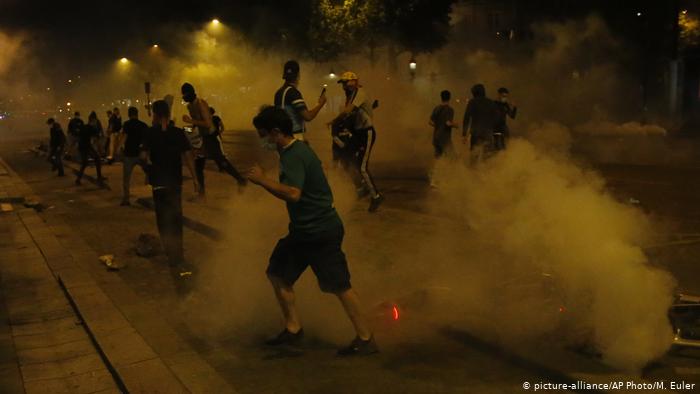 Also for a long time it seemed to be very quiet in France, after the protest of the yellow vests were quasi "by the way" dissolved by the bourgeois state. But now it starts to boil. In Paris there were up to 300 people on the streets to demonstrate against the mask obligation. That there were some reactionary forces with the people was a occasion for the bourgeois medias to defame the protests that were against the state of emergency as "crazy conspiracists".
Also in Paris and Marseille on Sunday, the 24th of August, there were riots by the masses against the police after a lost soccer game of Paris Saint Germain and Bayern Munich . Windows were broken, cars were burned down and the police were thrown at with bottles and other things. The police used tear gas and rubber bullets. In opposite to what is read in the bourgeois news the rebel masses were not just "drunken hooligans" but people that carried their anger about the state of emergency on the streets and against this even the 3000 police forces were powerless.