We reproduce an article from the revolutionary newspaper Rote Fahne from Austria. The article has only been published in German and this English translation is from us.
On 18 March, the International Day of Political Prisoners, a rally took place in front of the Indian Embassy in Vienna. It was part of a worldwide campaign to defend and release India's political prisoners.
The banner held up at the rally demanded "Freedom for Prof. G.N. Saibaba and Varavara Rao": two people of outstanding importance to the ever-growing revolutionary movement in the world's second most populous country.
Speakers from Partizan Austria, the Committee in Support of the People's War in India, KomIntern as well as the International League of Peoples Struggle spoke about the people's resistance, major strikes and the anti-imperialist and revolutionary struggle, as well as the increasing repression and the situation of political prisoners in India.
Tens of thousands of them are in prisons in India: revolutionaries, democratic intellectuals, activists, lawyers and human rights defenders, often held as political prisoners with the denial of any rights. Around 2,000 have died in the last 20 years due to torture, deplorable prison conditions or denial of medical treatment. The speeches also drew attention to the situation of political prisoners worldwide and demanded their freedom. Many passers-by stopped to listen to the speeches.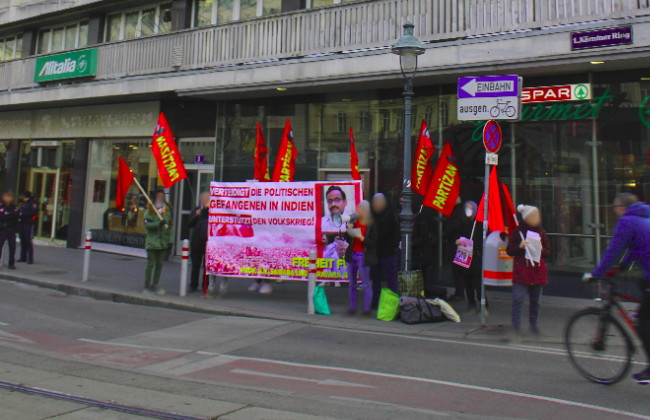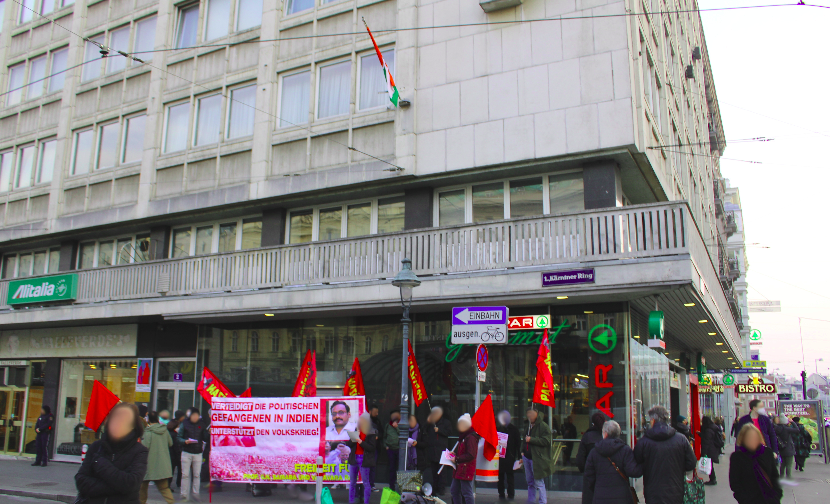 In Linz, actions were also taken on the international solidarity campaign for the release of political prisoners in India. The campaign was taken to the parks, neighbourhoods and to the people in an event. In particular, the freedom of Varavara Rao and G.N. Saibaba, two of India's most important revolutionary prisoners who have done and are doing important work in the revolutionary democratic struggle for the people of India, was demanded.
Many of the passers-by supported the demand for the release of these prisoners, because in Austria, too, large sections of the population see that it is the "ordinary people" who are being made to pay for the crisis, whose democratic rights are being curtailed and whose situation is deteriorating. Fighting against this is not "criminal" but justified.