Once again, more than160,000 French people took to the streets last weekend to demonstrate against the tightening of the Corona rules. Calls for "freedom" and calling French President Macron a "tyrant" were heard.
A fast-track procedure was used to impose compulsory vaccination for all health and care workers, as well as firefighters and other rescue workers, from mid-September, with a professional ban following refusal. A negative or convalescent certificate or a vaccination certificate will be required as early as August to use long-distance trains, bars, restaurants and shopping centres. The National Assembly waved the law through, the Senate sealed it at the weekend.
Now the French government is trying to portray them as a small minority and presented studies in which more than 76% of French people would be in favour of compulsory vaccination, and the so-called "health passport" would also meet with overwhelming approval.
On the sidelines of the demonstration in Paris, there were also clashes with the police, who then used pepper spray and water cannons against the demonstrators. According to the French Interior Minister, there were nine arrests in Paris.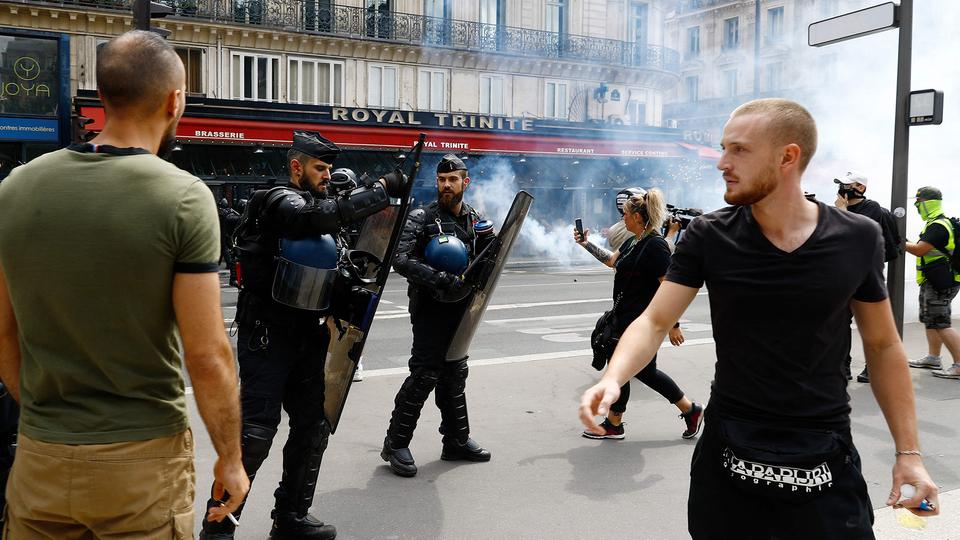 In other countries, too, more and more people are taking to the streets to protest against the tightening. In Italy and Greece, tens of thousands more people protested against planned Corona rules.
In Italy, which also wants to introduce a health pass on the 6th of August for the use of indoor spaces in restaurants, museums, etc., about 3000 people took to the streets in Rome, among other places. Here, too, slogans such as "Freedom" and "Down with dictatorship" were shouted.
In Athens, Greece, there were fights with the police. Demonstrators threw stones and Molotov cocktails at the police, who responded with tear gas and water cannons. In Greece, mandatory vaccination was introduced for care and health workers, as well as for those using indoor public spaces. Staff who are obliged to vaccinate may also be released from work without pay if they refuse to be vaccinated.