In May and June alone, a total of 109 journalists were charged in Turkey, four of them were convicted, and five other journalists were physically assaulted by the police. Although the number of imprisoned journalists is decreasing and the government is introducing more liberal reforms, according to the report by Expression Interrupted, freedom of the press and freedom of expression in Turkey are not in good shape.
The report by Expression Interrupted shows that freedom of expression and media freedom continue to deteriorate in Turkey, even though the number of imprisoned journalists continues to fall and the government is implementing "reforms". Nevertheless, new cases and investigations against journalists continue to be conducted by the public prosecutor's office.
In addition, police violence against them continues to increase. There is a particular danger at public demonstrations, especially since the end of April when filming and recording soundtracks at demonstrations has been banned. This was the case, for example, at this year's May Day demonstration, where there were targeted attacks on journalists, including the destruction of footage.
Since a journalist was so abused by the police at this year's banned so-called "Pride Parade" in Istanbul that he could no longer breathe properly, resistance has been stirring among journalists. Many of them took to the streets after this attack, protesting against the violence and restrictions.
Moreover, the Turkish government is now in a position to decide who is allowed to get a press card. Further, it also became public that the Supreme Council of Radio and Television and the media regulators had knowingly distributed heavy fines to broadcasters critical of the government.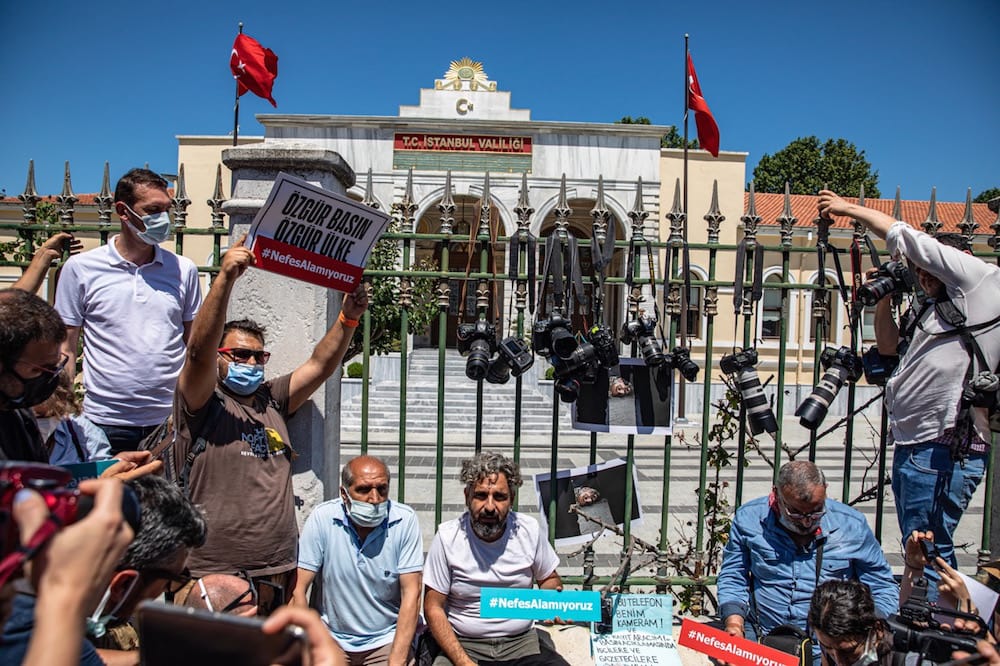 Journalists demonstrate in front of the Governor Office in Istanbul after the attack on a photographer. The sign reads: "Free Press, Free Country. #Wecannotbreathe".