We are publishing an inofficial translation of an article of ANOVADEMOCRACIA, that has been send to us: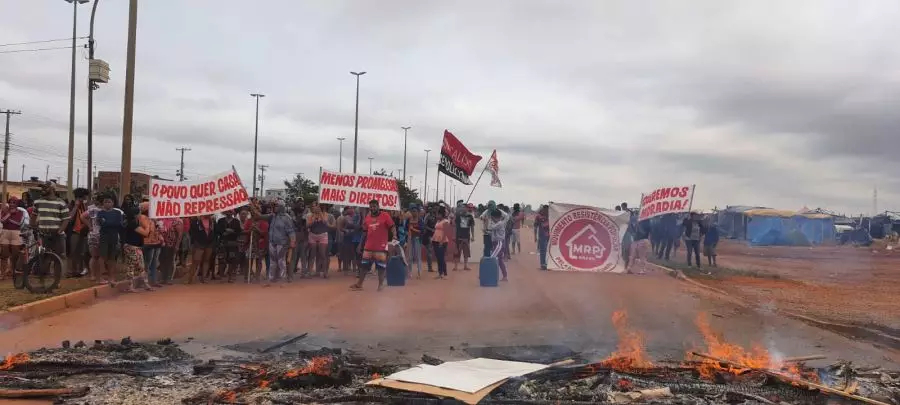 Demonstrators resist police eviction in DF. Photo: Reproduction
On the morning of October 7th, the Military Police (PM) of the Distrito Federal invaded a housing occupation in Ceilândia, DF, aiming to immediately evict the area. Around 400 demonstrators resisted on the spot and organized a combative act. Against police repression, the occupants set up barricades and waved flags and banners in the lane next to the place, besides setting tires on fire.
Outraged by the eviction, the protesters managed to delay the eviction process. The Military Police attacked the demonstrators with tear gas and rubber bullets. The police also invaded houses in nearby blocks in an attempt to punish demonstrators who tried to escape police violence. Several people were injured by the police, some were knocked unconscious, and a three-month-old baby suffered shortness of breath from inhaling the gas.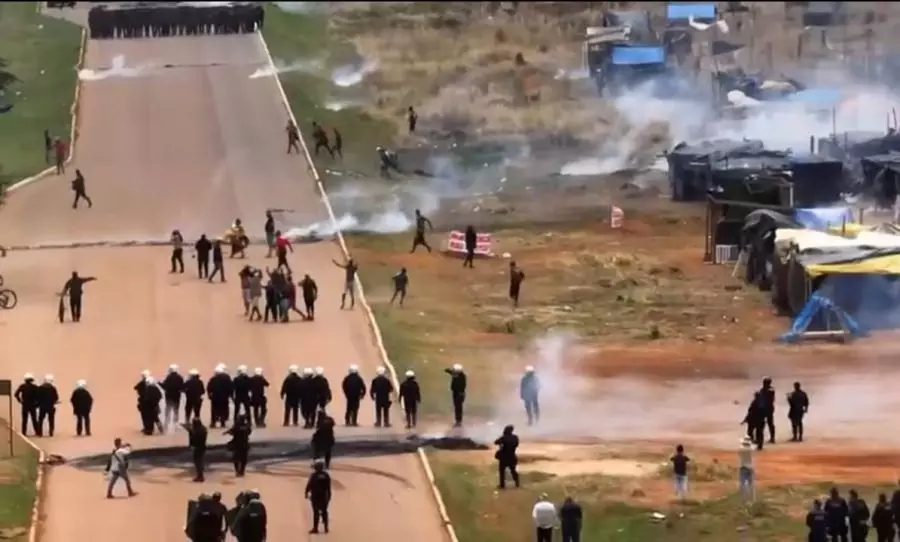 People resist to brutal eviction by the PM in Ceilândia, DF. Photo: Reproduction/ G1 DF
The governor of the Federal District, Ibaneis Rocha (MDB)[Movimiento Democrático Brazil, a party in Brazil that mixes many different points of view and is not clearly positioned on the "right" or "left" but is "central", some former members of the MR - 8 (Movimiento Revolucionario 8 de Outubro) are said to have joined the MDB after their surrender of the armed struggle], less than a week after being reelected in the first round of the electoral farce, announced on Thursday night, October 6, the removal of families in the occupied area in the morning of the following day, in a tone of threat.
The prosecutor's office presented a proposal for relocation, maintaining the immediate removal of families, the demolition of the shacks built, and promising to relocate only those families who prove some kind of vulnerability. Moreover, it was not made clear how this would be done.
The dissatisfaction of the local population increased because of fear of retaliation, considering that those who participated in the occupation were threatened of being cut off the list to get housing offered by the Companhia de Desenvolvimento Habitacional do Distrito Federal [Housing Development Company of the Distrito Federal] (Codhab). Although the agreement to vacate the area (intermediated by the persecuter's office) was made under the condition that the families leaving the area would remain registered in the program, there is distrust regarding the fulfillment of the terms of the agreement, due to the years of neglection by the government.
The area, located in QNR 6 [Housing area], on the margins of BR-070 [federal highway], in Ceilândia, was occupied by dozens of homeless families on Friday night, September 30th. The occupation was led by the Popular Resistance Movement (MRP), and had since then received support from popular organizations and social movements of the Federal District.