We publish an unofficial translation of an article by A Nova Democracia (AND) from Brazil.
Martyrs' Week: FRDDP makes agitation brigade in Sao Paulo [Video].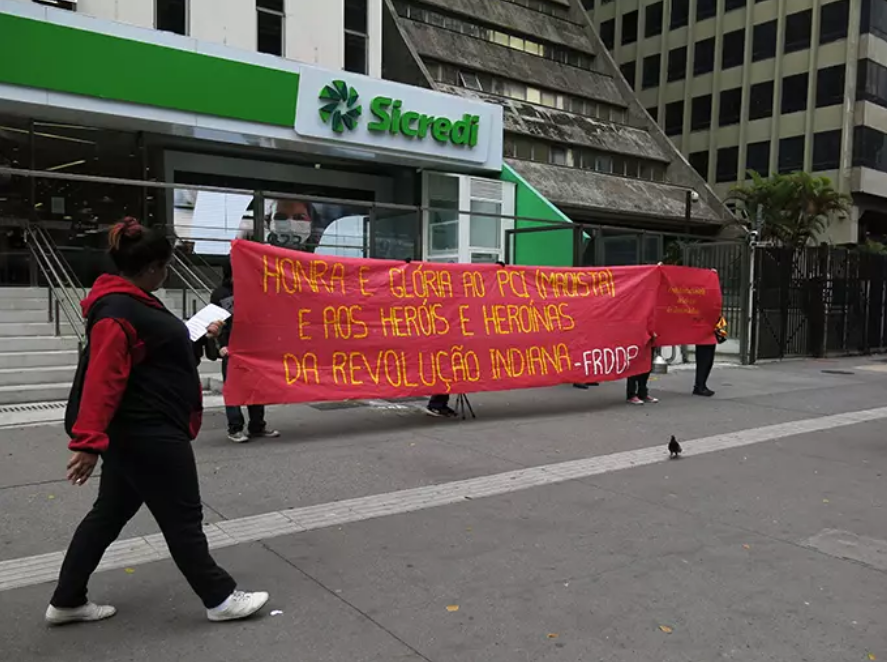 FRDDP holds a protest action to mark Martyrs' Week. Photo: AND database
On 9 August, activists of the Revolutionary Front for the Defence of People's Rights (FRDDP) held a protest action on Avenida Paulista, the main street of São Paulo, in front of the Indian Consulate as part of the International Martyrs' Week called by the Communist Party of India (Maoist).
In memory of the heroes, fighters and masses who died during the People's War in India, a huge banner was stretched with the words "Honour and Glory to the (Maoist) CPI and the Heroes and Heroines of the Indian Revolution". The international letter of the CPI Central Committee and the pamphlet of the FRDDP were also read out. In the speeches, the activists expressed solidarity with poet Varavara Rao and Professor G.N. Saibaba, political prisoners of the old Indian state. The Green Hunt, Samadhan and Prahar operations and the massive air strikes on the masses in Chhattisgarh were also denounced. The content of the agitation attracted a lot of attention from the masses passing through the avenue and around 200 pamphlets were distributed.
Watch the video:
https://twitter.com/jornaland?ref_src=twsrc%5Etfw%7Ctwcamp%5Etweetembed%7Ctwterm%5E1557818746474987522%7Ctwgr%5E3b055edfe60fb93e60ecade653b3bdb75b7ba944%7Ctwcon%5Es1_&ref_url=https%3A%2F%2Fanovademocracia.com.br%2Fnoticias%2F17960-semana-dos-martires-frddp-faz-brigada-de-agitacao-em-sao-paulo-video