The Haitian people have been suffering for months from a major economic crisis that is exacerbating their already poor economic situation. In addition, there are more and more crop failures due to the ever drier and warmer climate.
The ongoing general strike has brought all public life to a standstill. Most shops, schools and authorities have been closed for weeks and important roads are blocked. The general strike is accompanied by fierce battles against the reactionary security forces and imperialist lackeys. The reaction has so far killed at least four people through the use of live ammunition.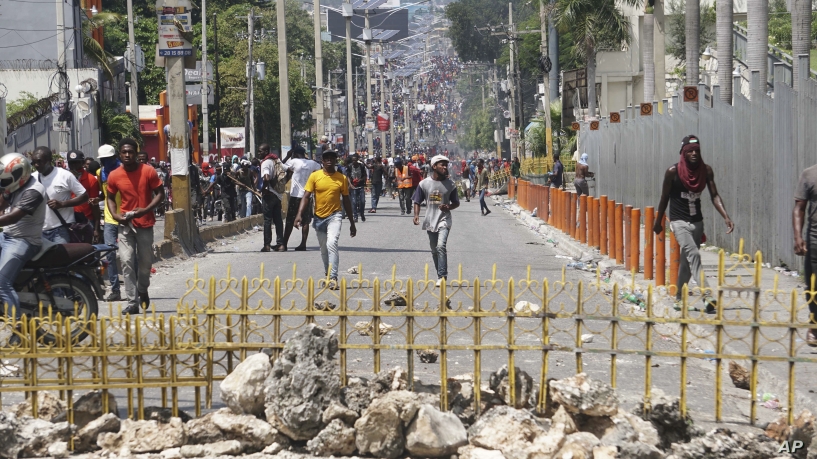 In the capital, Port-au-Prince, barricades are being erected and lit, and the police have been directly attacked.
In addition, there are always redistribution actions and attacks on banks and corporations and looting of ATMs.
After the storming of the police headquarters, even the furniture and the metal roof were removed and the complex as well as the vehicle fleet were set on fire.
A protester told AFP, "People are taking whatever they can to make their houses better because they are tired of getting soaked when it rains."
#Haiti Protest started with a bang, literally, early this morning when Cite Soleil protesters attacked, looted and set fire to the UDMO security forces headquarters. This was the scene. Video by @VOAKreyol Yves Manuel pic.twitter.com/9d20pbL5F3

— Sandra Lemaire (@SandraDVOA) 27. September 2019
In the course of the fightings, a central courthouse set on fire, including all the court files.

#Haiti Petit Gôave, Courthouse is on fire along with all the court case files. Video @VOAKreyol Innocente Desgranges pic.twitter.com/Op6qZVXUOt

— Sandra Lemaire (@SandraDVOA) 27. September 2019
Last week, hundreds of protesters surrounded the parliament in the capital, Port au Prince to prevent a vote. As part of this, a senator fired with a handgun into the crowd and seriously injured two people, including a journalist who was hit in the face.