We publish an english translation of the note that was published on A Nova Democracia about the news on the death of the chairman of CEBRASPO, José Pimenrta.
Comrade Pimenta: Present in the struggle!
"José Sales Pimenta, chairman of the Brazilian Center for Solidarity to the Peoples (Cebraspo) and prominent defender of the right of the people to fight for their rights passed away last Friday, October 19th.
Pimenta also had intense political activity since the student movement in the late 1970s, when he participated in the reconstruction of the National Students Union (UNE). Since then he has always participated in the struggles of the poor in the countryside and in the city.
During his activity in Cebraspo, he extended solidarity to the revolutionary movements and national liberation movement abroad, denounced the attacks on the peasant movement and the poor people of the favelas of big cities, he organized international missions to investigate massacres in the countryside. He was especially involved in the constitution of the Brazilian Association of People's Lawyers (Abrapo).
Zé Pimenta was also an enthusiast of the popular and democratic press and an important supporter of the A Nova Democracia newspaper, publicizing the newspaper, suggesting guidelines, indicating sources, selling signatures, debating and constructively criticizing our work.
The comrade died in his hometown, Juiz de Fora, Minas Gerais state, where he was also veiled, on October 20. He was honored with an exciting and combative ceremony by his family, struggle comrades and friends."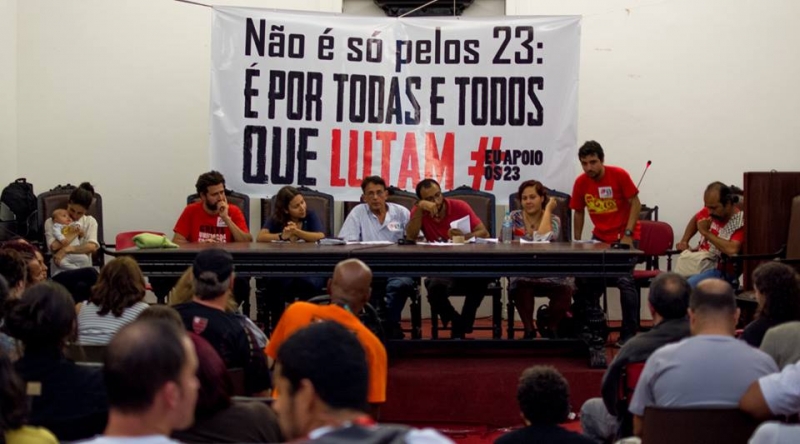 Among many other homages to Pimenta that were published in CEBRASPO website, we publish a video that was uploaded with a homage to him by a democratic youtube channel where Pimenta gives an interview about his activities.
In the video, among other things, he talks about his history and the history of his family, particularly his brother that was a lawyer that was assassinated by the military regime in Brazil, in 1982, about the situation of the people in Brazil and the world, about the A Nova Democracia newspaper, also about the struggles against the G20 in Hamburg. In general he makes a statement about the need to support the struggles of the peoples, the People´s Wars around the world, the struggle of the peasants and the poor people in the favelas.