In March 16, in Montes Claros, in the north of Minas Gerais state, around 200 peasants took the streets of the city in a demonstration agaunst the attacks of the landlord´s henchmen against the families in the Terra Prometida Settlement, affirming that the landlords and police terror will not stop the advancement of the struggle in the region.
The peasant march was organized by the Poor Peasants League (LCP) of North of Minas and South of Bahia and by the National Front of Struggle (FNL) and their demand was the settling of the 200 families who were occupying the Norte América farm, in the municipality of Capitão Enéas since February 18, 2018. Also during the protest the demonstrators demands the arrest of the executors and the ones who gave the order to torture and murder peasants in this area in March 8.

The peasants marched with red flags and a banner wth the writing: Long Live the Agrarian Revolution! Death to Latifundium! and calling the population to support the struggle for land.

The demonstrators were not intimidated by the police sent to stop the demonstration, when they arrived at the Dr. Carlos plaza in the bus terminal and denounced the federal and state management (Temer-PMDB and Pimentel-PT respectively), the electoral sham and the military intervention in Rio de Janeiro and were applauded by the workers in the terminal. The demonstration began in the city center and was finished in front of the Geraldo Athayde Exposition Plaza, where Leonardo Andrade (supposed owner of the Norte América farm) and other landlords of the Rural Society organized the criminous attack and threw red paint in the facade of the place to register that the spilled blood of the comrades are not going to stay unpunished.

The two movements relation has strengthened after this attack, their comrade Thiago, who was attemted of murder is getting better and the families are still in the land more united than before. Peasants and quilombola peoples from several municipalities like Capitão Enéas, Jaíba, Jequitaí, Manga, Matias Cardoso, Pedras de Maria da Cruz, Pirapora, Varzelândia and Verdelândia took part in this demonstration.

The peasants are resolute in keep fighting as the pamphlet that was distributed in the demonstration says: "Destroy latifundium at once...! Unite the peasants, indigenous and quilombola peoples with the support of the workers of the city! Sweep away all this garbage of corruption, misery, injustice, exploitation, oppression and genocide to conquer the New Democracy and the New Brazil."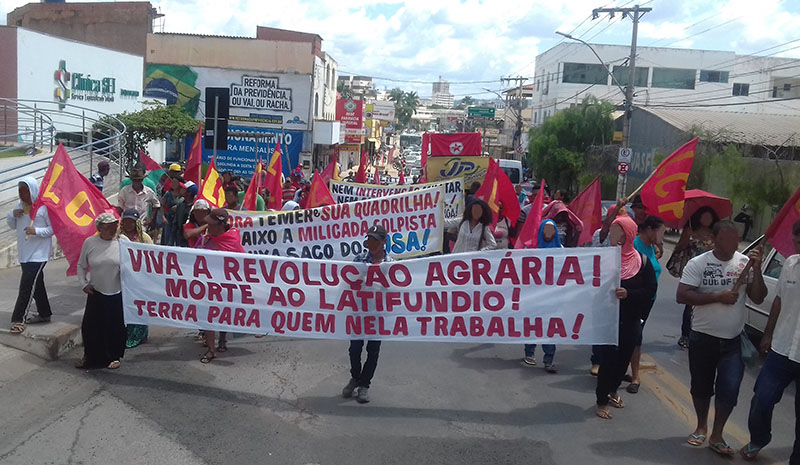 Peasants march to the Plaza in Montes Claros.