Revolutionary 1st of May demonstrations, be it Hamburg, Berlin or other cities are common practice since years. In Cologne, the forth biggest city in the country, however, they where in existent. A good reason, comrades thought, to introduce this tradition to Cologne and called for the first revolutionary demonstration the evening before the 1st of May. With great success: Even though the participation didn't exceeded a hundred demonstrators, which is far beyond the participation in other cities, a successfully combative demonstration could be held and the foundation for further revolutionary 1st of May demonstrations could be laid. Not only the demonstration moved very loudly and agitating through the workers- and immigrant quarters of Mülheim, but it also succeeded in fighting back police attacks after the official end of the demonstration. According to Express informations " … the previously peacefully May demonstration turned violent after unknown individuals torched pyrotechnics. Thereupon the police intervened. Repeatedly it came to scuffles." Nonetheless clips of the assault show clearly, that the police also tried to enter the facilities of a multicultural club close by.
In Cologne a noticeable increase in the mobilisation for Kögida [Colone against the islamisation of the occident], Hogesa [Hooligans against Salafists] and against the slaughtering of refugees in the Mediterranean could be experienced in this year. In correlation to the experience, the 1st of May demonstration met great appreciation of the people in the streets. The report of Rote Aktion, part of the organizing antifascist-antimilitarist-anticapitalist coordination, states in regards to this matter: "The reactions of the people that where watching from the side walks showed us that we stroke a cord; that we are not the only ones that have had enough, that we are not the only ones that know that there has to be something else in this world than bowing, begging and embittering."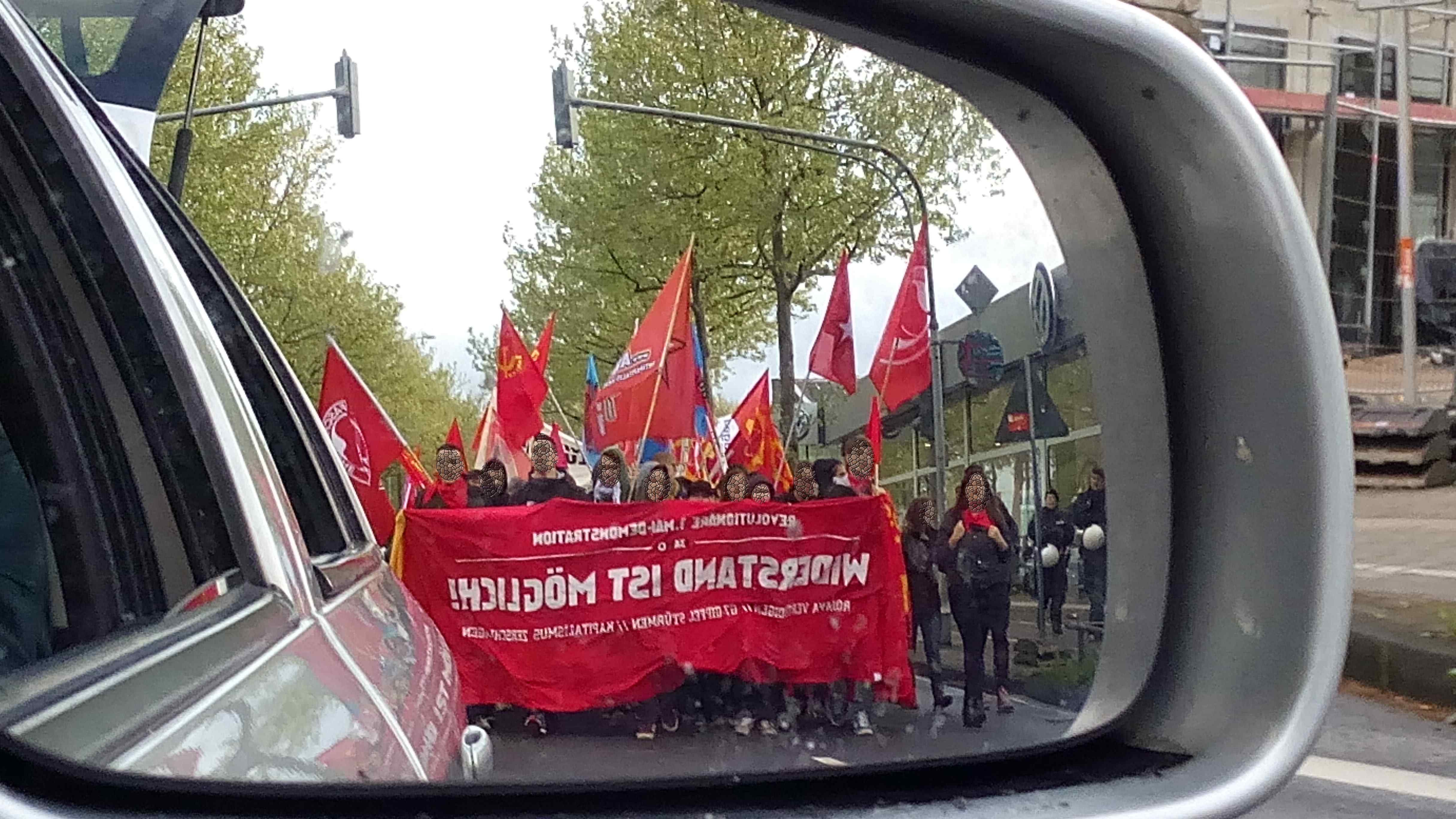 Apart from those activities at the evening before the 1st of May there were also some activities on mayday itself. First activists of different progressive German and Turkish organisations participated in the internationalist block at the DGB demonstration, which they called for with stickers and posters. Later antifascists blocked the entrances to Colognes central train station, the station platforms at Mülheim train station and the rails to prevent fascists to travel to their demonstration. At Breslauer Platz it came to scuffles with the police.