Despite the counterrevolutionary Operation Prahaar-3 the People´s Liberation Guerrilla Army (PLGA), under the leadership of the Communist Party of India (Maoist) [CPI(Maoist)], carried out several actions against the old Indian state during the three days lasting Bandh (armed strike) in ongoing People´s War.
On November 23, a mobile tower and an official town building were blown up in Jurahi village in Bihar's Aurangabad district. According to the "Hindustan Times" a group of combatants of the PLGA entered the village by night, carried out the action and then retreated while shouting revolutionary slognas. "According to villagers, attack was apparently aimed at snapping telecom network to disrupt flow of information about their activities to security agencies."
According to several bourgeois news agency the husband of a Sarpanch (kind of community chief) were killed on November 26 for participating in construction works in order to fight People´s War. "The incident took place on Friday night at Karmari village, in which the Maoists also set ablaze a JCB machine engaged in road construction work [...] a banner was found outside the village, in which the Maoists claimed that the deceased was "punished" for playing an active role in the construction work despite their warning[…].
These infrastructural measures of the old Indian state do not serve the interests of the people but those of the big landowners and the bourgeoisie, as well as for the military fight against People's War.
Also on November 26, a police station under construction were blown up in Kurumgarh in Chainpur block of Gumla in Jharkhand. According to "The Telegraph India" about 70-80 combatants of the PLGA rushed to the building and asked the workers to leave before they attached explosive devices. The multiple detonations inflicted high damage to the building.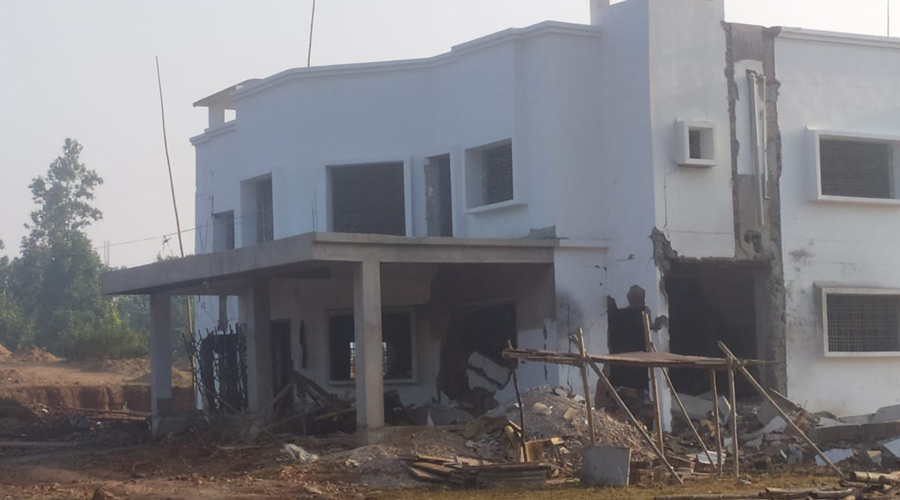 The same day a goods train carrying iron ore from the National Mineral Development Corporation (NMDC) mines were derailed by sabotaging a railway track in Dantewada district of Chhattisgarh State. According to "Telangana Today" mebers ot the PLGA removed the so called fish plates that connect the rails on the track and further: "Maoists have fastened a banner to the engine of the derailed goods train and left pamphlets all over the place asking people in Telangana, Andhra Pradesh, Madhya Pradesh, Maharashtra, Chhattisgarh and Odisha to observe bandh on Saturday."