In the midst of the harshest restriction yet on democratic rights and freedoms since the pandemic began, with Turkey imposing a three-week curfew banning pretty much all activity outside the home, protests against the operation of quarries have developed over the past week.
On the one hand, a new quarry is to be built in the north-east of the country close to the coast of the Black Sea in Ikizdere in Rize. The massive damage to nature in the region, mainly to the ground, is imminent. Resistance developed from this on streets in Rize, despite the massive curfew. The mood spilled over to peasants in Kabatas in Ordu, a little further west on the coast, who protested against the reopening of the nearby quarry after eight years. One villager said: "The quarry is in the neighbourhood. If there is an explosion, it will rain stones in the neighbourhood. Houses are damaged and our safety is under threat. We don't want to live in fear anymore." In addition, the dust threatens the harvest (especially nuts and fruits). A large part of the environmental problems in the country that the people have had to suffer from have arisen in the past as a result of stone quarrying; the groundwater in particular has been polluted.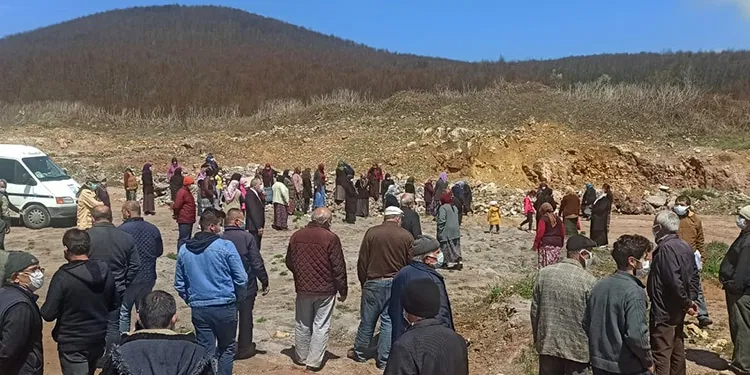 The images should not be underestimated either - a gathering of several dozen people is a peculiarity at the moment, which can cause extreme repression by the authorities. Thus, on 1 May, nearly all actions, no matter how small, were stopped by the police and gendarmerie and the demonstrators or the activists and crowds protesting in their respective ways were arrested. By the way, the measures do not apply to tourists. Once again, it shows how the rights of the peoples in the oppressed nations are subordinated to the privilege of the imperialist countries.
Struggles in the countryside also took place in the village of Kirazl'yayla in Bursa in the north-west of the country, where a mining company started to build high-voltage power lines for the infrastructural levelling of the area for mining. The villagers took action to preserve their habitat, which is in danger from the project as a whole, and rebelled.