During the past week, several actions were again carried out (allegedly) by the People's Liberation Guerrilla Army (PLGA) under the leadership of the Communist Party of India (Maoist) [CPI(Maoist)] in People's War in India.
On February 18, a further police informer were killed in Khursipar Khurd village in Chhattisgarh''s Rajnandgaon district. According to "Outlook India" up to ten combatants of the PLGA draged the traitor out of his house and executed him at the nearby forest. It is also said that Maoist leaflets were left or distributed, denouncing the black role of the traitor. It can be assumed, that the death sentence was previously issued by a people's court, which is the normal procedure. 1
Also on February 18, a construction site of Pradhan Mantri Gram Sadak Yojana (Nationwide road construction project) were attacked and set eight vehicles and machines engaged in the constructing work to fire. The action took place near Malewahi Village in Lohandiguda (Bastar) in Chhattisgarh. According to "The Hitvada" an unknown number of armed (alleged) combatants of the PLGA rushed to the construction site and asked the workers to leave before setting the vehicle ablaze. 2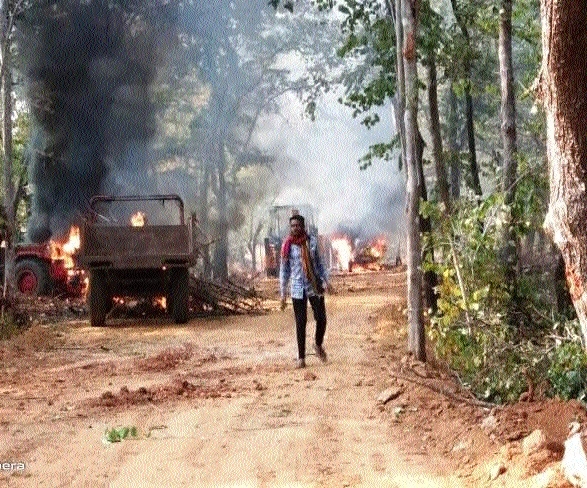 As we have already reported, the old Indian state is not concerned with providing a good infrastructure to the people, but with reclaiming the forests in order to be able to fight the People's War more effectively and to be able to expand the terror against the people.
On February 16, a policeman died after a detonation of an improvised explosive device (IED) at Dundru forest near Chapal village in the district of Lohardaga inJharkhand. The incident took place during a search operation of the Central Reserve Police Forces (CRPF), when one policeman stepped on the IED, triggering the blast. 3