As we reported, the "March for Life" was supposed to take place in Cologne for the first time on September 16, a spectacle organized by various reactionaries for the criminalization of abortions. A few hundred people also came together on the Heumarkt in Cologne on Saturday, only nothing much came of the "march", because after only a few hundred meters she show was over due to numerous blockades.
The activity on Saturday was probably not what many participants had imagined from the reactionary anti-abortion demonstration, although they had put on a big show for their first activity in Cologne: A kick-off rally with a dozen booths, a large stage, a video screen, international "guests" such as anti-abortion activists from the Netherlands, balloons, music and all the trimmings. But in the end, little came of it. Anyone who didn't show up on time for the kick-off rally, that was encircled 360°, had to expect to lose ones materials and get a few slaps on the way to the rally. And even before the demonstration finally started with a delay of over 1 ½ hours, the route was already blocked, so that the police switched to an apparently prepared alternative route.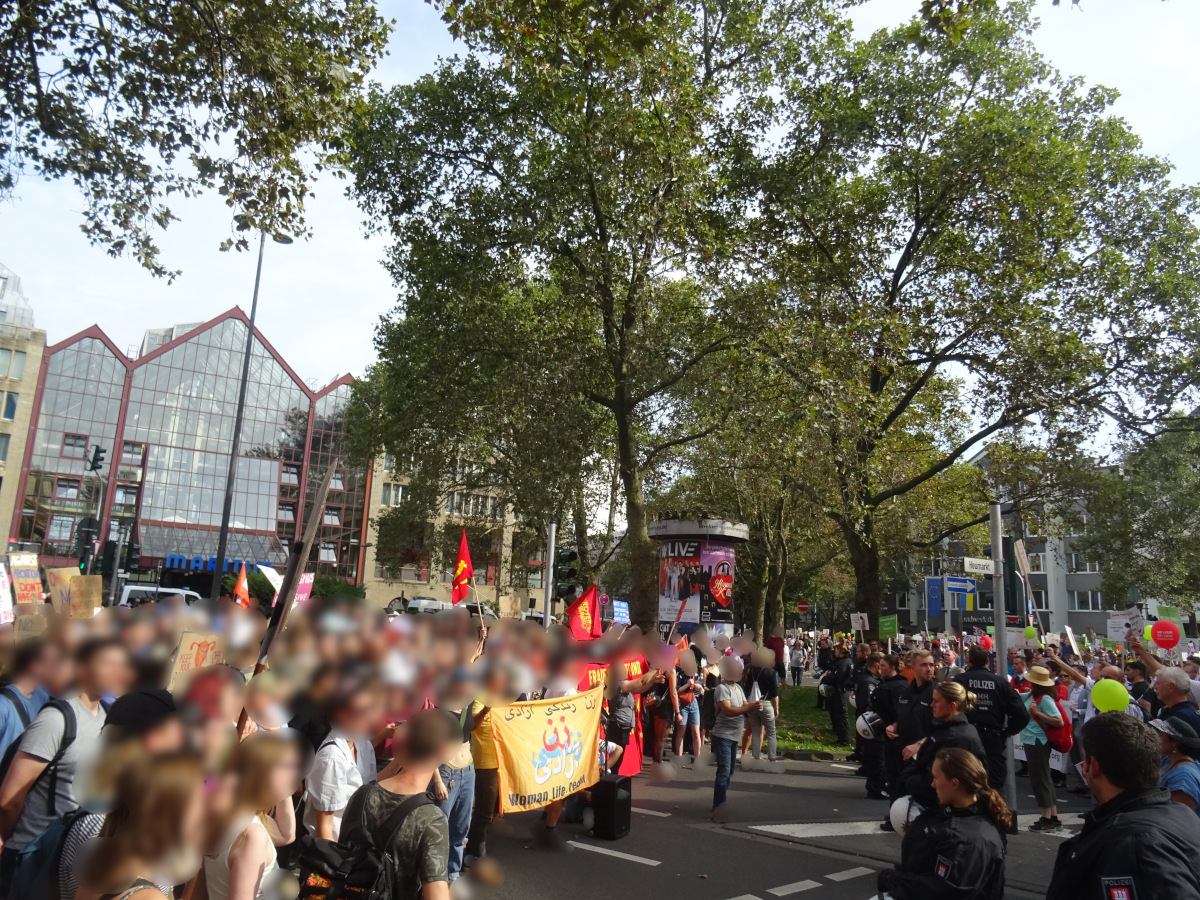 Roter Bund activists at the spontaneous blockade at Heumarkt, where the "march" eventually turned around.
But even on this route the march went not very far: After a few hundred meters, which mainly led through the tunnel under the Maritim Hotel, it was again over on the other side of the Heumarkt, because there were also spontaneous blockades of demonstration participants, which were supplemented in the coming hours by further blockades on all sides of the intersection at the Heumarkt, so that only the way back remained. This was ultimately necessary, because the police - despite reinforcements with riot police from Hamburg, among others, and request for additional forces during the day - was too few in numbers to enforce the demonstration route and a large part of the existing forces were busy to arbitrarily attack participants of the first blockade. This also allowed that, at the same time as the blockades, counter-demonstrators could additionally penetrate the rallying area, where some stands or their information and propaganda material were broken.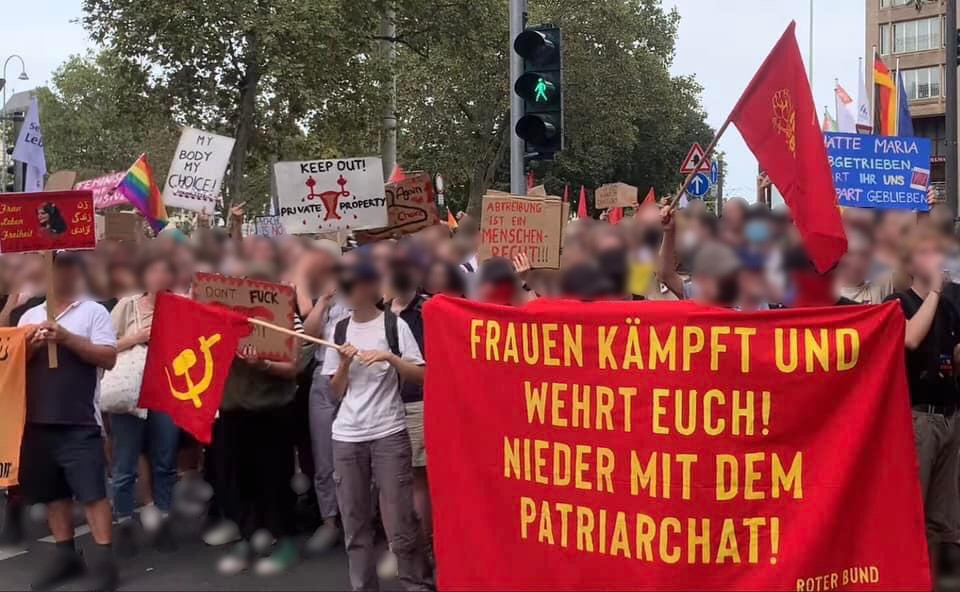 Shot of the blockade from the perspective of the anti-abortion protesters, Source: Social Media
In the end, after a massive delay, the "march" walked a few hundred meters through no man's land, then had to turn around again on the spot, sneak back to their destroyed festival under police protection and subsequently leave the rally still cordoned off by the police. The various organizers of the counter-activities, such as "Pro Choice Cologne", accordingly speak very justifiably of a complete success of the counter-activities, since not only was the march itself prevented, but the whole activity turned into a giant fiasco.
---
Cover photo: The "March for Life" is brought back through a small alley between trees and bicycle stands to their rallying site, which is occupied by counter-demonstrators. Source: Social Media