Here is a brief report on election boycott actions in Finland and the USA recently.
The comrades of the revolutionary website "Red Flag" from Finland published a report on actions in the course of boycotting regional elections in Finland. Among other things, of leaflet distributions and painted-over election posters in the city of Tampere. Regional elections were then held on 23 January 2022. Overall, only 50 per cent of voters went to the polls. This confirms once again the correctness of the election boycott.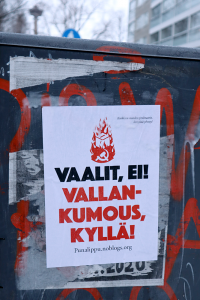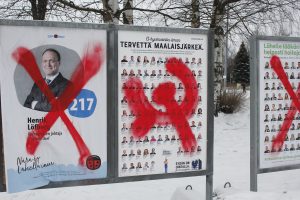 In the run-up to the local elections, which took place on 25 January, the bourgeois parties flooded Austin with their election propaganda. Revolutionaries, on the other hand, have unleashed actions calling for an election boycott and a fight for revolution. Paintings with the slogan "Elections, No! Revolution, Yes!" and election posters painted over with red paint could be seen all over the city.