We publish this declaration of the Red Guards Austin in solidarity with Igor Mendes:

Igor Mendes, son of the Brazilian people, fighter of the international proletariat, is not alone!
a slogan painted on the walls of proletarian neighborhoods all over the world.

Who is Igor Mendes and why do we support him?

Comrade Igor Mendes is a student revolutionary and Communist Leader from Brazil. The reactionary Brazilian state arrested him for helping to mobilize and lead the masses of people against the FIFA World Cup. He was criminally charged for attending a demonstration on 10/15/14 and recently sentenced to prison along with 23 of his comrades. Leaders emerge in class struggle and Comrade Igor Mendes is such a leader. By honoring him we honor all 23 of the arrestees. Igor is a Communist and a revolutionary, a true son of our class.

In his own words he expresses that:
"I answer for a single "crime": criminal association, article 288 of the Penal Code. Draconian law, whose new wording was approved in 2013 and used increasingly to persecute popular movements, especially those that do not lend themselves to being mere conveyors of projects of class conciliation."
The Maoists of Brazil have been unrelenting in their class struggles hailing from the rich tradition of the Araguaia Guerrilla, an armed struggle that took place in the 60's and 70's. Because of the severe poverty and conditions where the police, military and landlords kill whomever they want state repression and white terror there are very high.

FIFA destroyed the houses of the working poor and violently pushed the masses from their own city to make way for tourists. The reactionary state treats the youth of the Favela as sub-human pests. Our city, Austin is familiar with how the rich and tourists funnel into our city and push us out, while calling our people "roaches". Gentrification has devastated former working-class Black and Chicano communities in Austin, portraying a free-for-all to outsiders. Thanks to this voracious selling off of our city, Austin even has attracted its own bourgeoisie sports hustlers who are pulling a con-job to bring a Major League Soccer team here. They are scheming our community into handing over public land to build a Soccer Stadium for the US's own rookie version of the world's sport.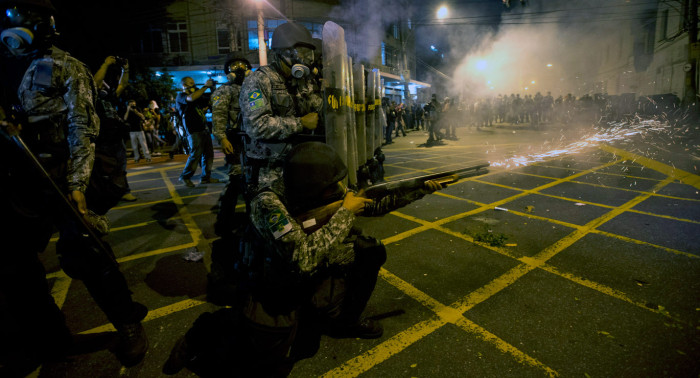 Police attack anti-FIFA protestors in Brazil

In Brazil, as outraged youth gathered in mass to protest the world cup, the state agents of the Dilma government, part of the so-called left pink tide, responded with reactionary violence and white terror to imprison the youth. This phony "socialism of the 21st century" constantly shows its reactionary face. They are no different than that the reformists and revisionists of our country who constantly serve the bourgeoisie. When in crisis, the bourgeoisie and phony socialists alike oppose the proletarian dictatorship; if you do not hit them, they will not fall.

All 23 arrested activists were sentenced to between 5 to 13 years in prison without parole for attending the anti-FIFA demonstrations. After going to prison, Comrade Igor was unwavering. In true revolutionary spirit he remarked:
"I will leave here more convinced that Brazil needs a great revolution!"

While in prison he has authored a book titled "Small Prisons". The title references how capitalist society in crisis comes to resemble the large prisons more and more, with an even more acute 'small prison', which the masses and their revolutionary leaders suffer. His book details prison abuses and focuses on the struggles of the masses that are locked up. In an act of revolutionary solidarity, Comrade Igor dedicated his first book to the League of Poor Peasants (LCP). LCP is a revolutionary mass organization that operates in the Brazilian countryside to organize the poorest of the countries peasantry in the struggle for New Democratic revolution and Socialism.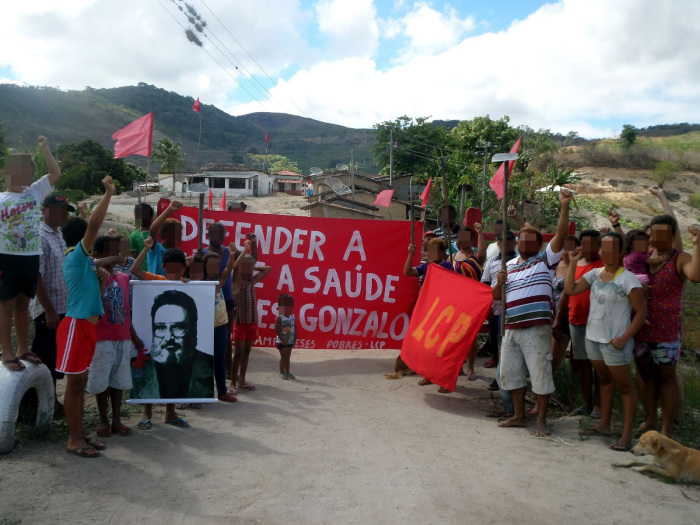 League of Poor Peasants (LCP) rallying to defend Chairman Gonzalo of the Communist Party of Peru

Brazil has a long history of proletarian internationalism and one of the best developed and most advanced Maoist-led movements in the Americas. Their struggle is our own, as we are fighting on different fronts in the same war for our class—the international proletariat.

Igor has never once seen himself as a victim but as a revolutionary, he is a true child of our class. The revolution produces leaders and heroes and Igor is deserving of both titles. All prisoners face horrid conditions which breed a sort of miasma; to elevate themselves above this misery, the revolutionary must have unshakable faith in the masses and the revolution. To keep his moral high, Igor would write Maoist slogans on the walls like, "Dare to Struggle, Dare to Win," and draw hammers and sickles as a reminder of his revolutionary commitment and as a statement of defiance to the prison authorities.

The US Maoist movement is familiar with state repression and the targeting of revolutionaries, we have seen incredible support for our own Comrade Dallas, who has stressed to our movement the need for continued struggle and a refusal to capitulate in the dungeons of the state. From Austin to Brazil, we are one struggle. We must all show our gratitude for the international support Comrade Dallas has received by honoring and supporting Comrade Igor.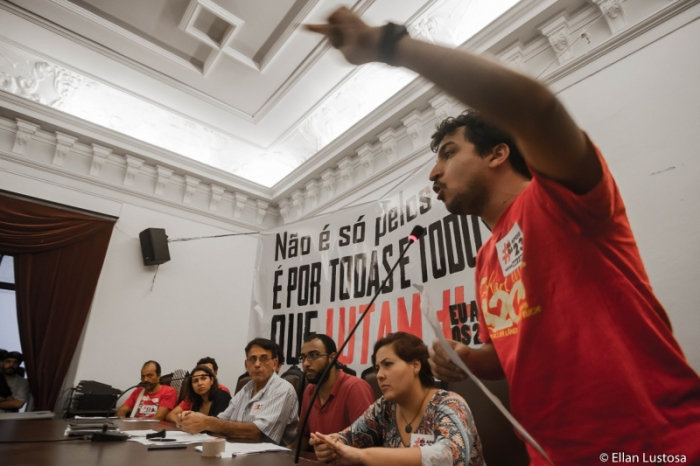 Comrade Igor giving a speech next to some of the 23 comrades sentenced

While being a political prisoner, Igor has never sought special treatment and is one with the imprisoned masses, still serving the people of the class he lives and fights for. We have seen this same resolve among our movement's best revolutionaries and recognize it as a true sign of the indomitable spirit of our class.

We call on all the activists and collectives in our movement to take solidarity action and to educate the US proletariat on the struggles of their 23 brothers and sisters being persecuted by the Brazilian state. It is disgusting that when Americans think of Brazil, they think of white sand beaches and clear blue water, forgetting the plight of the people. The Brazilian masses will one day rise like a tidal wave and reclaim said beaches and every Favela will fly the red flag as the hammer and sickle blazes from the mountainsides. The Communist Party of Brazil (Red Fraction) will initiate The People's War and will forever change the face of South America as it marches shoulder to shoulder with other Parties toward world proletarian revolution and Communism! When we think of Brazil, let us think of these comrades. Let us think mainly of Comrade Igor Mendes and let us make trouble all over the imperialist nation of the US in his name!

Igor Mendes, presente en la lucha!
Freedom for Igor Mendes and his 23 comrades!
Long live the revolutionary youth of the international proletariat!
Long live international solidarity!

-Red Guards Austin, 7/28/2018