Manifestations were held in three cities in northern Germany to mark 19 June - the Day of Heroism. We document the short reports and photos here.
Hamburg
On 19 June 2022, the Red Hamburg Collective held a manifestation in the working class neighbourhood of Mümmelmannsberg under the slogan "Against passing on price increases and inflation to the working class!". A banner and speeches denounced that the workers should now bear the costs of the crisis and war - the continuing price increases and the constantly rising inflation. The cost of living is getting higher every month and inflation in the FRG is now 7.9 per cent. The measures of the German government, such as the 9-Euro-Ticket and the so-called petrol rebate, on the other hand, are only crumbs that are thrown at the feet of the workers and the people and hardly bring anything. Instead, the federal government is investing 100 billion euros in the attack capacities of the Bundeswehr.
The workers are fed up with this situation. Many who passed by the manifestation asked interested questions, told a lot about their own worsening situation and expressed their support for the manifestation. The demands expressed by the manifestation resonated strongly with the voices of the residents of Mümmelmannsberg. The Rote Post was sold and leaflets were distributed.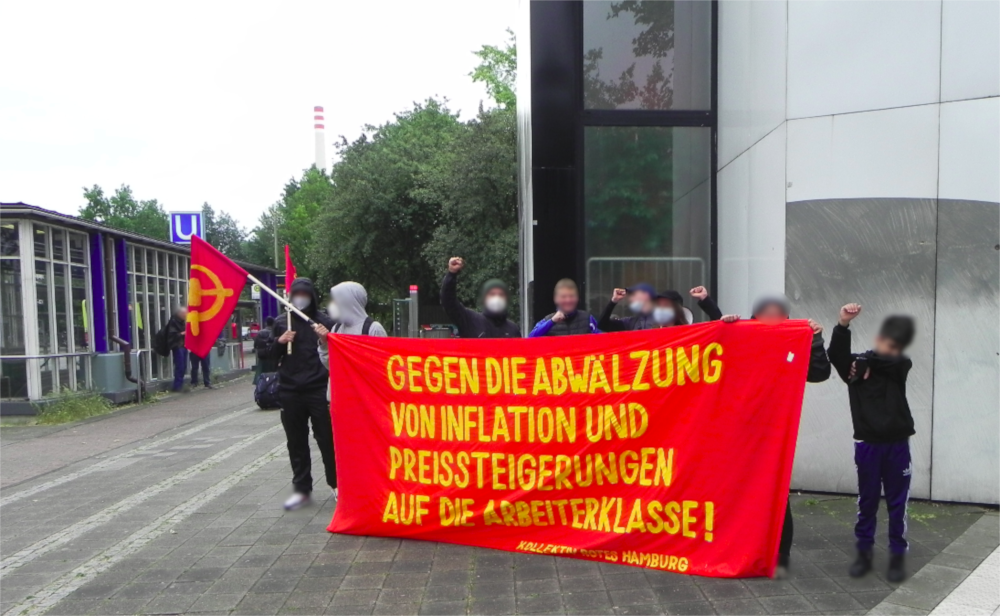 Beyond the demands of the day, a speech also drew attention to the significance of 19 June as a day of heroism. On 19 June 1986, the old Peruvian state murdered almost 300 revolutionary prisoners of war, fighters of the Peruvian Communist Party. Since that day, 19 June has been celebrated every year by communists and revolutionaries around the world as Heroism Day.
The manifestation showed that the workers do not want to accept the state of affairs that this system means for them. That something has to change is clear to most of them, only the way how has to be shown. For this, the working class needs its own militant organisation that meets the demands of the workers, leads the struggle against the prevailing conditions and creates real change.
Bremerhaven
A manifestation was held by the Red Women's Committee of Bremen in the Goethe district of Bremerhaven. Speeches denounced the passing on of price increases and inflation to the working class and upheld the heroic struggle of the comrades in Peru who gave their lives for the revolution 36 years ago on 19 June. At the same time, flyers were distributed which were very popular among the masses. Many showed solidarity with the manifestation by shouting or raising their fists.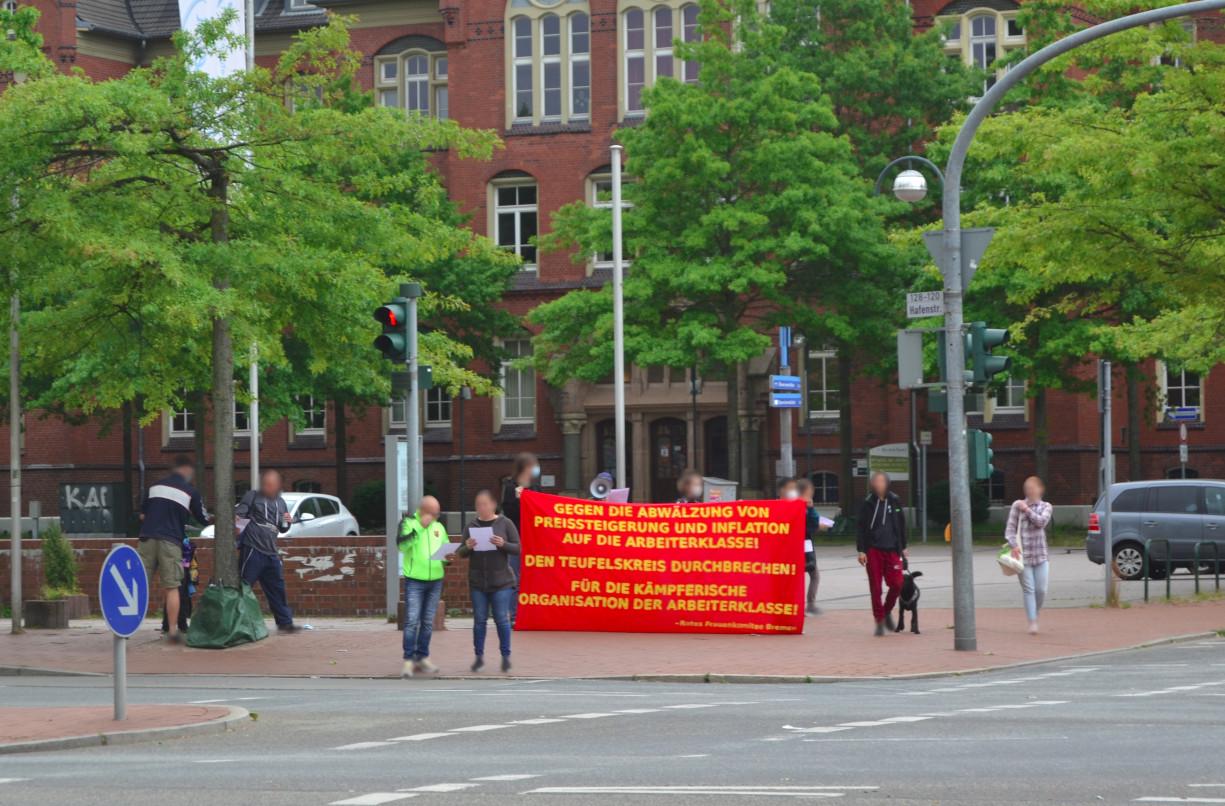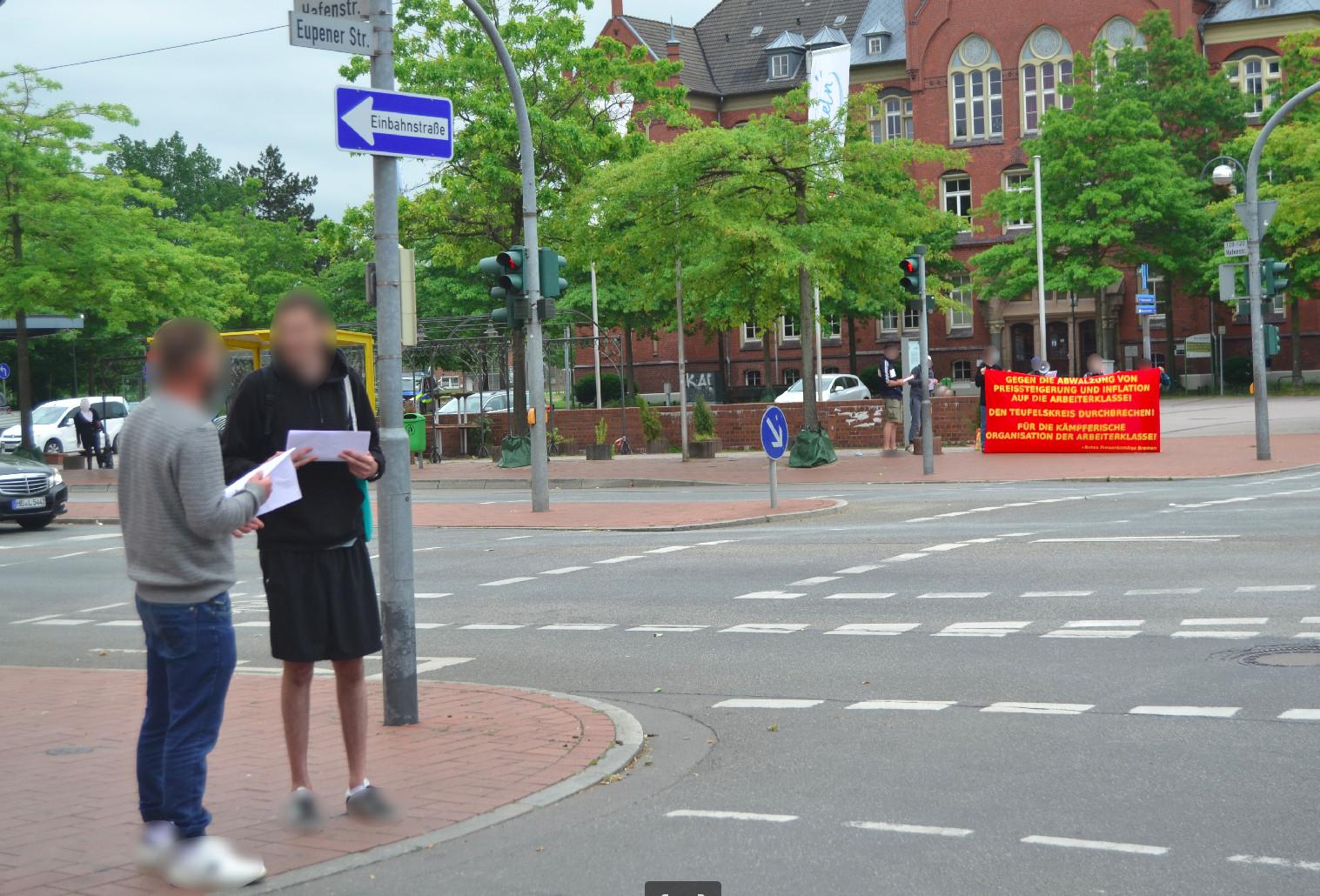 Bremen
The previous day, the day Mohammed I was shot dead by police in the working class district of Gröpelingen in Bremen, a similar manifestation had taken place. Here, too, there was great interest and support for the speeches and the leaflet.