A cop in Delmenhorst, Lower Saxony, recently filmed himself beating up a man in a cell with his bodycam. He hit the 41-year-old man, whom he had arrested beforehand, several times with his head against a cell wall. The whole thing was done in the presence of his superior and his patrol partner, who calmly watched their colleague's violent excess.
According to the Oldenburg police, the video footage was seen by another police officer. The latter then reported the incident, so that the police leadership could not avoid suspending the officer, at least for the time being.
This is not the first time that the Delmenhorst police have distinguished themselves in terms of violence. In the last three years alone, a total of nine cases of assault and battery have been brought against the police station where the incident took place. However, the death of 19-year-old Qosay Sadam Khalaf, who was murdered by Delmenhorst police cops last year in March, remains particularly on the mind.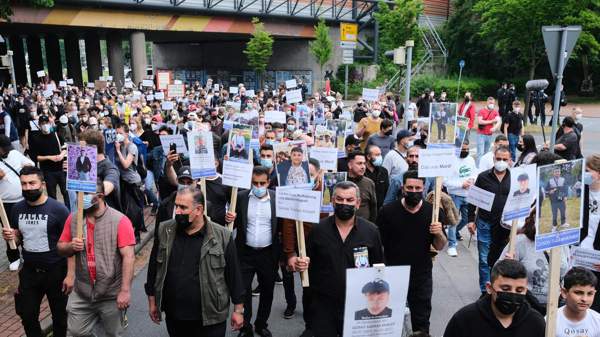 Relatives, friends, neighbours and many others demanding justice for Qosay in Delmenhorst in the summer of 2021.