Today, August 28, the repressive apparatus of the Indian old state has made several illegal arrests of human rights activists across in Delhi, Haryana, Maharashtra and Telengana, as well as illegal raids on several activist's houses. This grave action of the reactionary state of India must be fiercely condemned, as theyare arrests of human rights activists and defenders based on fabricated accusations. This is a clear attempt to silence the intellectuals who are taking position for the poorest peoples of India and of those denouncing the repressive actions of the state against the people.
Sudha Bharadwaj, PUCL (People's Union for Civil Liberties) National Secretary, Gautam Navalakha of PUDR,Prof. Anand Teltumbde of CPDR,Vernon Gonsalves and Arun Ferreira, advocates,Vara Vara Rao, noted poet and rights activist andKranti Tekula of Virasam were arrested and other activists had their houses raided according to a statement of the PUCL.
"While some news channels state that the raids and arrest have been made in the Pune case of Bhima Koregaon caste violence, where the prime accused are Hindutva right wing groups and leaders who are enjoying state impunity and at large, some other news agencies are alleging that the arrests are linked to claims of alleged plot to assassinate Prime Minister Narendra Modi and Chief Minister Devendra Fadnavis."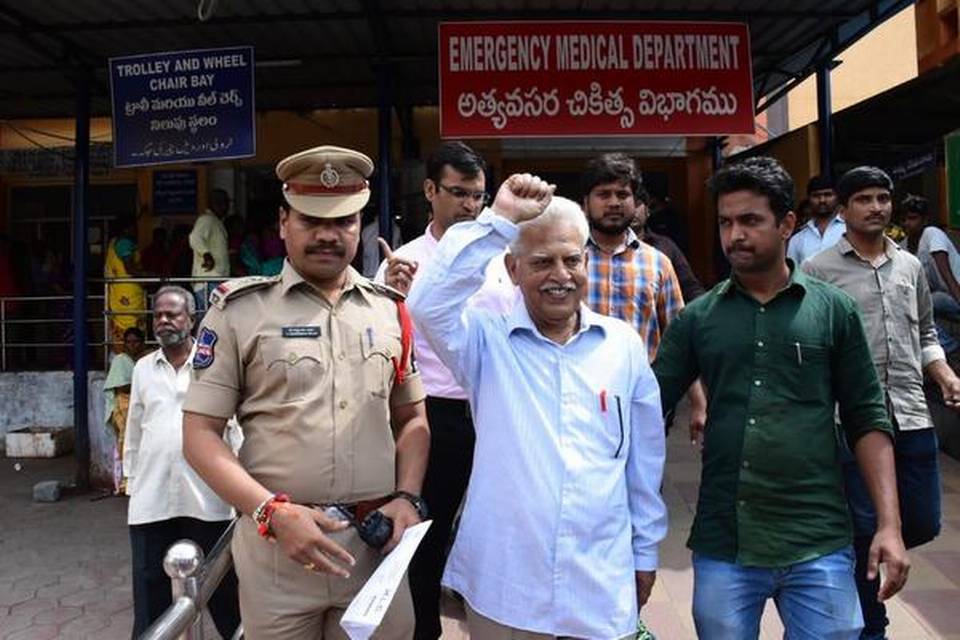 Varavara Rao, 78, is a well known advocate of the revolutionary movement and a writer. He is a founding member of Virasam, the Revolutionary Writer's Association, and has been imprisoned for his political activities many times. Varavara Rao is the current chairman of the Revolutionary Democratic Front, and an important progressive intellectual. Before him the position of chairman was held by Professor G. N. Saibaba, who is already in prison since 2014.
The fabrication to arrest Varavara Rao was impulsed with the arrest of Rona Wilson, a people´s lawyer and public relations secretary for the Committee for Release of Political Prisoners. The police from Pune alleges he had a letter on his computer which is signed by "comrade M" who is supposedly a member of the CPI(Maoist) and the name of Varavara Rao is mentioned in such letter, linked to a plan to murder Nerendra Modi. However the letter is very different both in style and content to all documents from the aforementioned organization.