The PLGA under the leadership of the CPI(Maoist) carried out several actions in the recent week.
On June 4, the PLGA had cut an important road in Chhattisgarh´s Dantewada district. The combatants triggered at least 16 IEDs at different places of the road. More than 100 battalions of CRPF and Anti-Naxal Unit of District Chhattisgarh Police and District Reserve Guard 'DRG' are deployed in this area.
On June 2, a bauxite mine were rushed and 13 construction vehicles of of BKB and Balaji Company were set to fire in the district of Lohardaga in Jharkhand.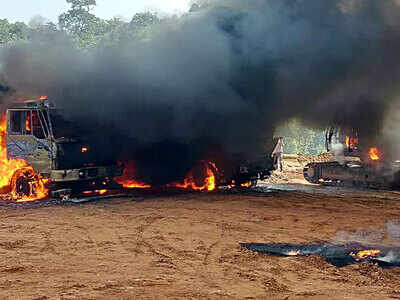 On May 31, the PLGA rushed another construction side in Lavkhamman locality in Gumla district in the state of Jharkhand. In these incident the fighters also destroyed equipment and vehicles. The reclamation of the rainforests is only of use to the bourgeoisie, so the people and the environment can be exploited even further. It is also an attempt to expand the terror against the people's war and the people itself.
Also on May 31, a patrol of CRPF and police was ambushed in Jonua village in Jharkhand's West Singhbhum district. In these incident a constable and a village guard were killed.