Last Tuesday, around 15,000 people protested against the ongoing martial law on Mindanao. Martial law was imposed on the city of Marawi last May following attacks by an muslim-nationalist group. Since then, the displacement of hundreds of thousands of people, massive human rights violations and murders have been on the agenda. Martial law allows for arbitrary arrests. For this, the mere suspicion and it is also no judicial arrest warrant necessary to legitimize an arrest. Also, curfews and suspensions are imposed by public institutions under martial law.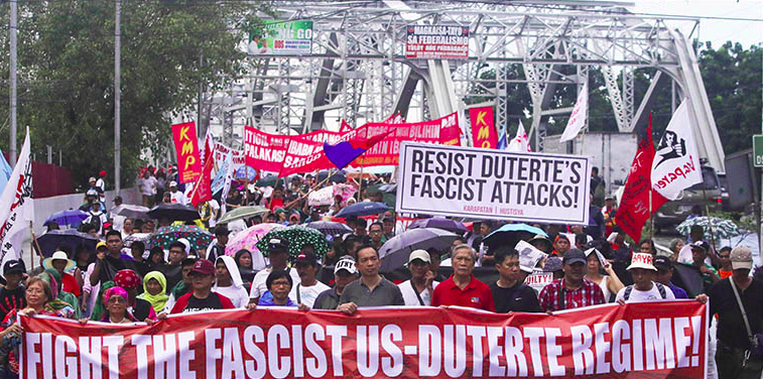 Former President Marcos then introduced martial law to push back the communists and revolutionaries, which he did not succeed. The martial law enacted by President Duterte, today's governing body, was imposed to smash the Islamist groups. In October 2017, Duterte announced that Marawi was "free of terrorists," yet he extended it until the end of 2018. On the grounds that "to ensure the rehabilitation of the city and to maintain peace and order in the remainder of Mindanao" martial law has not yet been repealed. It is clear that Duterte can maintain control of the second largest island in the Philippines only through martial law. Already in September, the Filipino peolple protested throughout the country against the war law, which was introduced in September 46 years ago by the then President Marcos. They demanded the final lifting of martial law and denounced the evictions of hundreds of thousands of people. Of the 350,000 displaced, 70,000 still live in evacuation centers today.
In Davao City, Cagayan de Oro, General Santos and Butuan, people took to the streets. An activist in Butuan said: "The attacks of the Duterte regime on our people, the destruction of our basic civil and political law give us more reasons to express our anger. We demand the end of martial law and we want to destroy the bloodthirsty Duterte regime." Many people fear that martial law will not be lifted at the end of the year, but will be extended again, so that Duterte continues to have control of the island, especially because the elections are soon to come.
Source of the article: New Epoch Media.