In a command conference with ground commanders the chief of the Armed Forces of the Philippines General Rey Guerrero on Tuesday exclaimed his goal to eradicate half of the New People's Army in the next six months – a farfetched goal, considering the great successes NPA forces had in December. A report published Sunday indicates that the reactionary armed forces lost at least 26 soldiers in NPA actions in December.
In the days before Christmas, the 28th and 66th Infantry Battalion and Scout Rangers Company in Barangay Tubaon launched an operation in the district of Davao Oriental, on the southern Island of Davao. During their operation, they were engaged by combatants of the NPA.
On the 28th of December, 16 troops were killed by the NPA in Sitios Gibaan and Bato-bato. Two soldiers were wounded.
In another action, NPA forces on the 29th harassed soldier of the 66th IB troops in Barangay Marayag, after the reactionary forces detained some 10 framers and tortured them.
Eight more troops from the 28th IB and Scout Rangers were ambushed on December 30 in Sitio Madian, where attempted to make good of the CPP's ceasefire and advance their position, but fell into a trap laid by the NPA.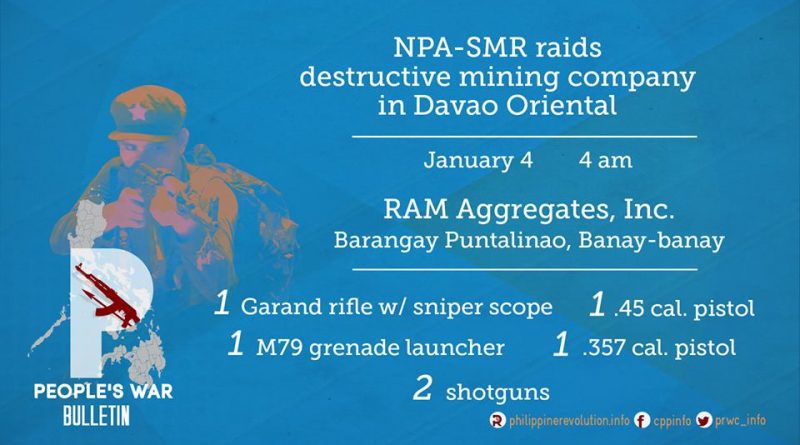 In fact, just days before the boasting statement made by the head of the armed forces, on the 4th of January, the NPA conducted a successful operation against a mining complex in Davao Oriental. Sending the private security goons and the soldiers stationed to guard the complex running, the NPA burned down the property of foreign capital and obtained a sniper rifle, a grenade launcher, two shotguns and two handguns.
Regarding this assault, the Comval-Davao Gulf Subregional Command-New People's Army spokesperson stated:
"[...] The sanction is in line with the Communist Party of the Philippines' policy of protecting the environment by destroying destructive foreign large-scale mining companies, and those firms which engage in foreign-owned economic activities which sap the country's natural resources while victimising workers and peasants.
RAM Aggregates Inc., exports nickel to foreign companies abroad while keeping mining workers wages at a pittance and causing the degradation of resources and the environment in the area."