In early September the Journalist Gauri Lankesh was shot dead in front of her residence in Bengaluru, gunned down close range by killers who fled the scene on motorcycles. After her killing bourgeois media outlets and politicians spread the rumors this cold blooded murder would have been carried out by the Communist Party of India (Maoist) as an act of revenge. A claim of utter preposterousness considering the stance of the CPI (Maoist) on matters such as these.
Sure, Gauri Lankesh had neither been a member of the CPI (Maoist) nor of the democratic forces the Indian reactionary press is usually so keen to associate with the Party. In the past, she wrote for The Times of India and other bourgeois outlets. More then once she publicly criticized the CPI (Maoist) and met with high-ranking officials of the Indian government. Still, she became a voice against the reactionary methods applied by the Indian government onto its people and publicly denounced and unmasked the role of the ruling BJP, its paramilitary structures and Modi's role in particular more then once. In 2016, she was sentenced to six months in jail (but was released on bail) after publicly revealing an extortion scheme of multiple BJP leaders in her tabloid.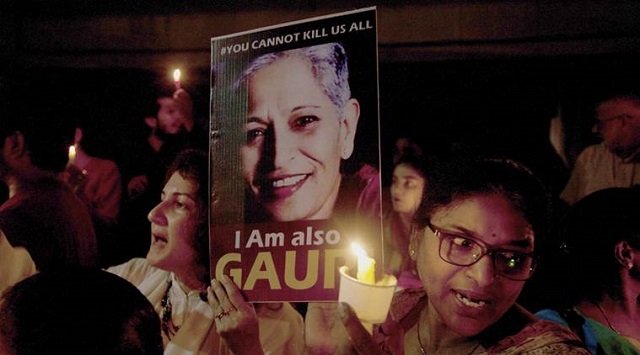 Now, as many before her who raised criticism on the BJP and the status quo in India, she is dead. In this regard, let us recap what the Central Regional Bureau of the Central Committee of CPI (Maoist) stated in a recently provided document regarding their stance towards democratic forces and how they are being targeted by the reaction:
Appeal to Rights' Activists

[...]

You know that rights' activists starting from Dr. Ramanadham who stood firm in these struggles laid their lives.

As you come forward for the implementation of the rights provided in the Indian Constitution the 'state' targets you. It considers you as activists of Maoist frontal organisations. You are so much harassed that you are unable to work without police hurdles and harassments. This is evident from the incidents of Malini Subrahmaniam, Salini Gera and Bela Bhatia. The ex-SP of Sukma, Elisela instigated lumpen elements to kill you on the streets by dashing with vehicles. [...]

As Operation Green Hunt intensifies the attacks on people's well-wishers and rights' activists too is on the rise. Our Party severely condemns all these. Though the state is chasing you, torturing and instigating, you fearlessly and courageously stand on the behalf of the people and make a sincere and just struggle for the ideals you believe. Our Party conveys revolutionary greetings to all of you for this.
Gauri Lankesh's murder sparked a series of demonstrations, especially in the big cities. Although she hadn't been a Maoist, the people held her in high regards for her democratic struggle addressing issues like freedom of speech, racism, religions freedom and the abominable caste system. The rumors the reaction spread after her death in order to instigate, that she would have been killed by revolutionary forces, is the poorly made attempt of wiping clean their blooded fingers and was transparent to everyone from beginning to end, even before the CPI (Maoist) addressed this issue.
Whilst one of the people Modi follows on twitter commented "One bitch dies a dog's death all the puppies cry in the same tune.", the Communist Party of India (Maoist) issued following statement:
"The Party strongly condemns the murder of Leftist, pro-people, progressive and democratic journalist Gauri Lankesh by Brahminical fascist goons of the Sangh Parivar protected by the BJP government at the Centre. The party appeals to all like-minded forces to hit the streets for a determined fight against the forces that killed Lankesh."


"It is their lowly and dirty act to pressure and get her brother to hint at the possibility of Maoist hand in her murder"