Since years Mali is grievously effected by the ongoing imperialist's struggle to repartition the world and for a bigger share of pie. The country is exemplary for the consequences of such a prolonged imperialist aggression: On one hand there are vast deposits of important resources like petroleum, uranium and gold in Mali. On the other hand the country is kept extremely poor; its northern part is considered one of the poorest in western Africa. Hence, there's every right to rebel for the people.
As a semi-colony of the imperialists, Mali started facing a steep rise of foreign troop deployment in the country by its former colonial ruler France in the end of 2012. In Autumn of 2013 Germany, France, Denmark, Finland, Switzerland, Italy, China, the Netherlands and Sweden send additional troops under the label of the United Nations Multidimensional Integrated Stabilization Mission. Furthermore a number of African countries, acting as local lackeys of the imperialists, continue to play a role in the imperialist aggression against Mali.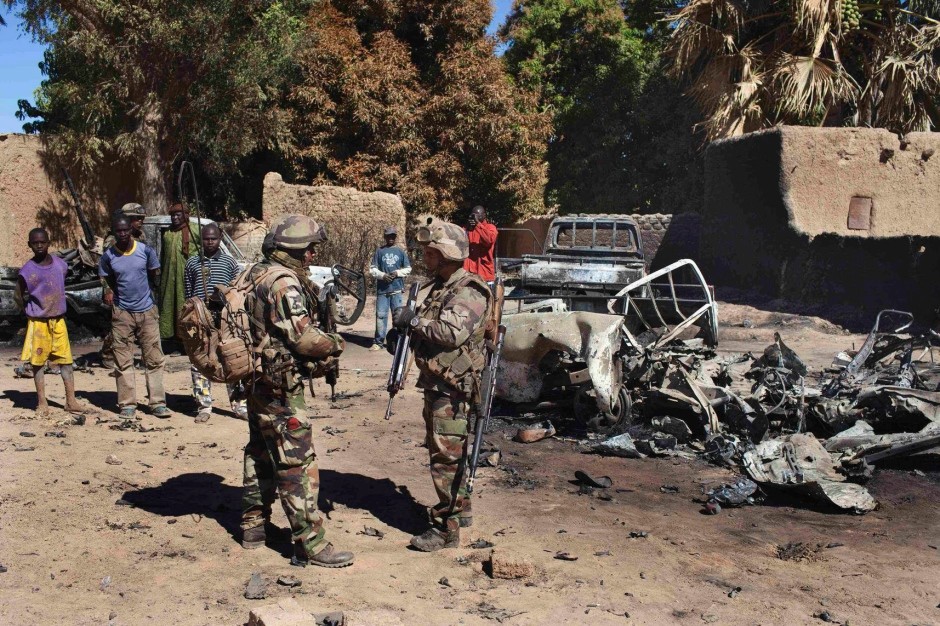 City of Douenzta, after its siege by French Armed Forces in 2013
Although it was first claimed the UN Mission would only last a year, it is still an ongoing operation. In the course of their aggression the imperialist and their lackeys have stationed around 13,000 blue-helmet soldiers and additional 1,900 policemen. They are met by the heavy resistance of the people who constantly target the very same troops that enforce the imperialist's demands. Until now more than 116 soldiers of the occupation forces were killed.
On the 15th of August alone, 19 soldiers were killed in an exchange of fire when a UN camp in Timbuktu was attacked. Only a day before, four others were killed in an assault on another camp in Douenzta. Another three were killed on the 24th of September, when an IED detonated under their vehicle. Additional four "Green Barets" (US Special Forces) were killed while giving instruction lessons to Niger soldiers close to the boarder of Mali. Their squad came under fire by some 50 attackers and with their vehicles exploding dead and wounded had to be evacuated by helicopter. Two Niger soldiers were wounded in this incident on the 5th of November.